⇠ back to "Look out for…"
Seven species of violets and three of pansies!
Mike's key to the violets is downloadable (via right-click, or similar action) from:
… and the ten species are illustrated below. (Remember: click a photo and a full-resolution version appears in a separate pane/tab/page, depending on browser.)
Violet flowers are some shade of violet, or white. Leaves are simple 'blades', obviously  heart-shaped, rounded-triangular, or more circular, with faintly-lobed margins. Stipules small: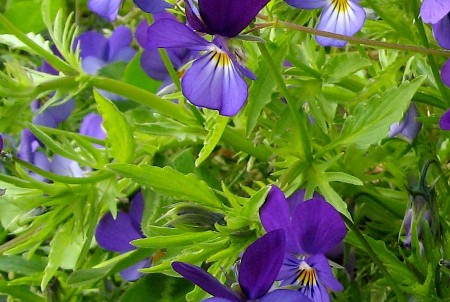 Pansies have a great range of flower-colour: white, yellow, blue, purple, often mixed. Leaves are narrow, with strongly-lobed margins, and narrowing into the base. Stipules large:
---
Violets
Are the sepals pointed…?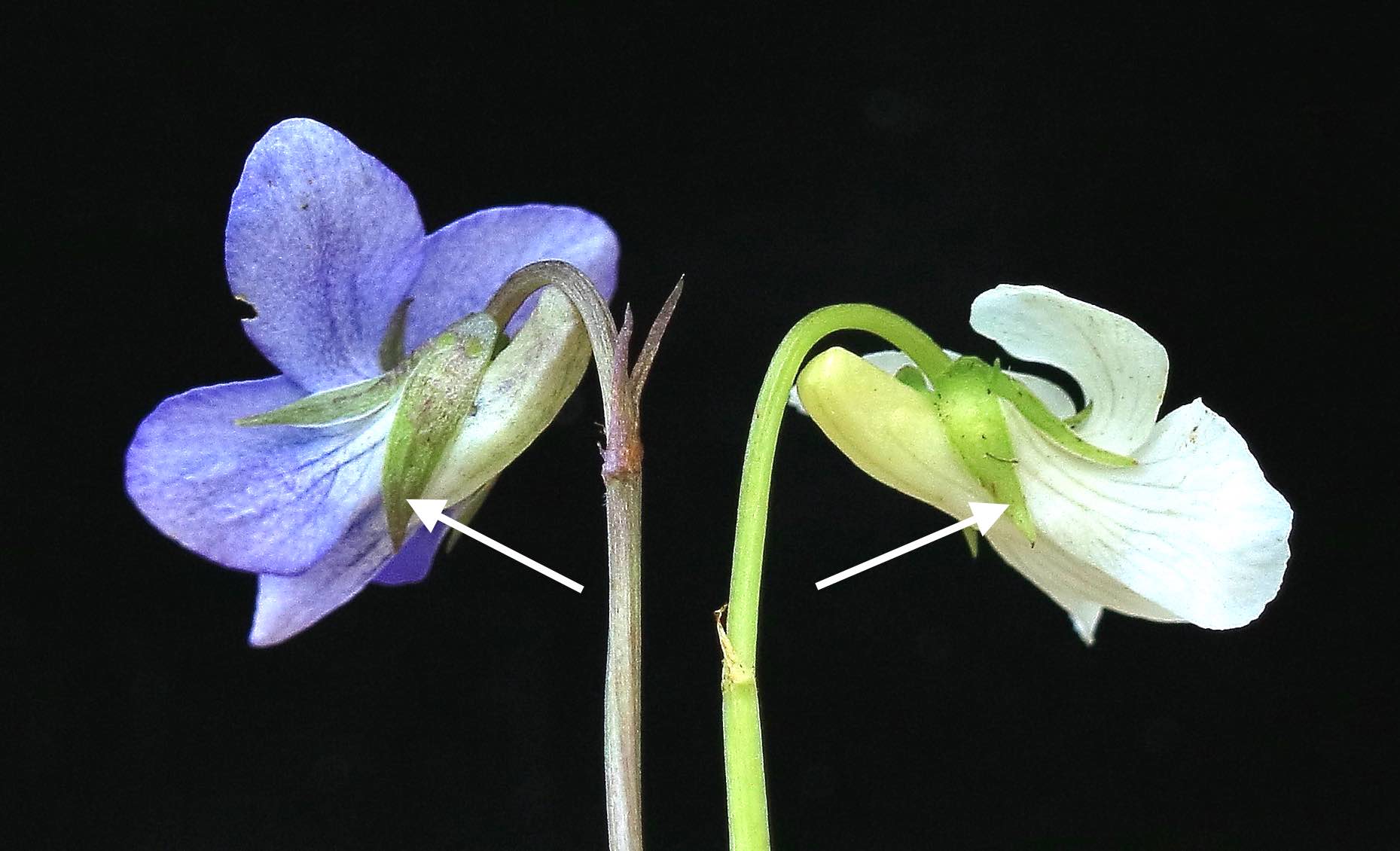 … then it is one of the dog-violets:  go to Section A, below.
… or blunt?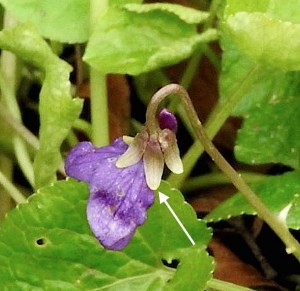 … then it's one of Hairy, Sweet, or Marsh Violets: go to Section B, below.
Section A (pointed sepals): Dog-violets
Common Dog-violet Viola riviniana
By far the commonest in this group, and very variable (so often prompting identification as one of the others in the group!).
Leaves are determinedly heart-shaped, with large rounded basal lobes (often incurled). The upper surfaces almost always have a good scattering of very fine hairs (easy to miss). The spur is comparatively large, swollen and finger-like, often with a vertical notch in the end, and pale – any colour from white to violet, but almost always clearly paler than the petals.
Abundant in all sorts of habitats: open woods, hedge- and river-banks, pastures of all kinds, and far into the mountains on cliff-ledges and outcrops. ⇓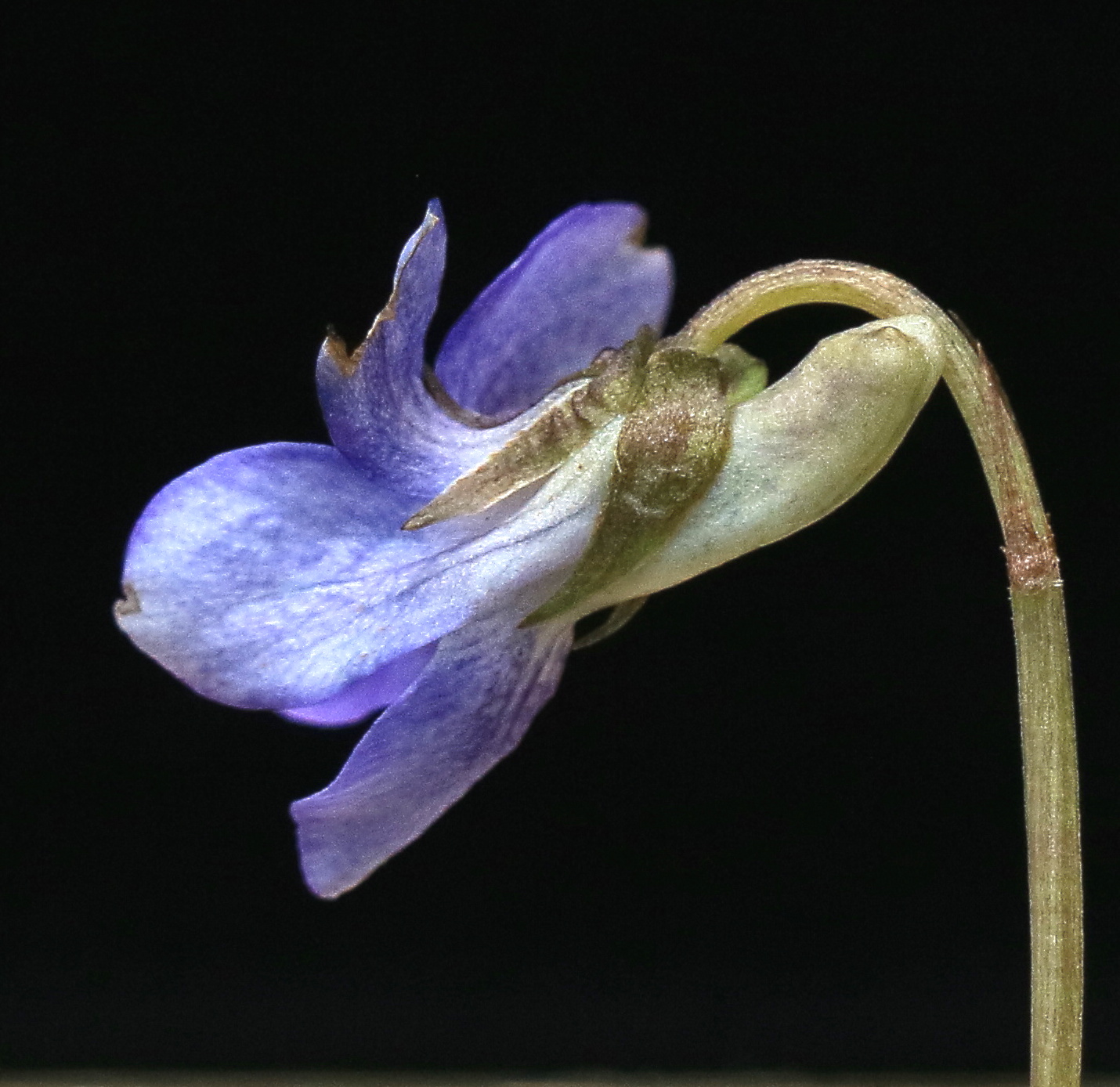 ---
Early Dog-violet Viola reichenbachiana
This is quite straightforward to identify, just as long as one applies a set of criteria sufficiently strictly! Thus,
the spur is narrower than the above, usually without a notch;
the spur is invariably darker than the petals – often deep purple;
it starts flowering earlier in any season than riviniana (in the same area – i.e. the milder south of the county);
occupies limestone woodlands in the south of the county.
Plants not agreeing with these criteria – e.g. off the limestone; not in the south – should be looked at with much caution before naming as this!
I'm grateful to Pete Burton for the following, concerning the plant's distribution off the Carboniferous limestone: "Viola reichenbachiana occurs on the Silurian in the south of the county. It grows on the steep slopes along the west side of Windermere in rocky flush lines. These flush lines are characterised by a change to Oak/Ash/Hazel woodland in contrast to the mainly Oak/Hazel or Oak/Birch depending on altitude."
The leaf-blades tend to be rather longer in proportion, and less hairy, than in riviniana, but other differences are somewhat trivial.
These two species can be regarded as 'sub-shrubs', in that they can grow a tiny woody 'trunk', with the current year's growth emerging from the summit, and consisting of a few leaves forming a loose 'terminal rosette', with the flowering branches arising from below this rosette. ⇓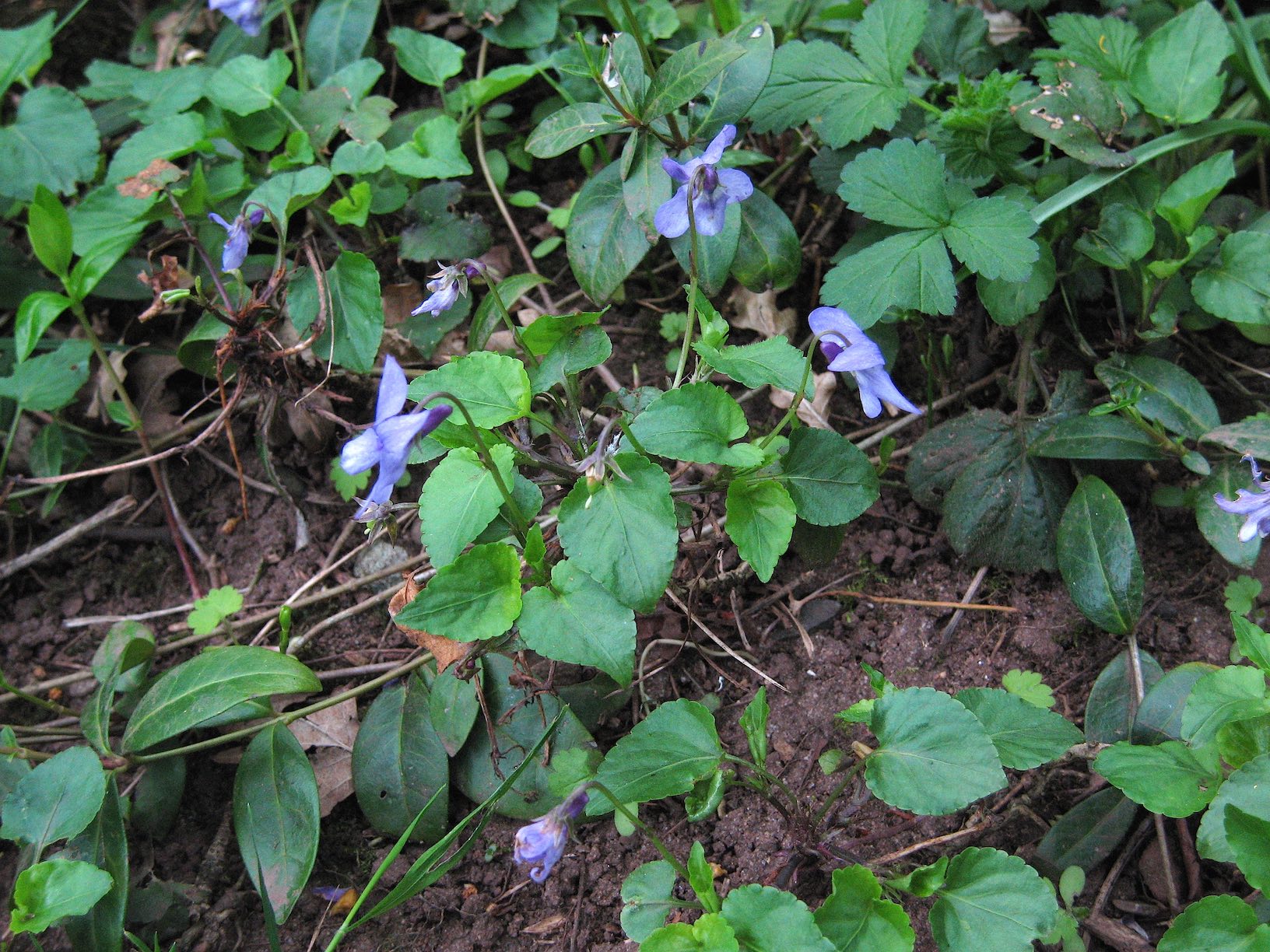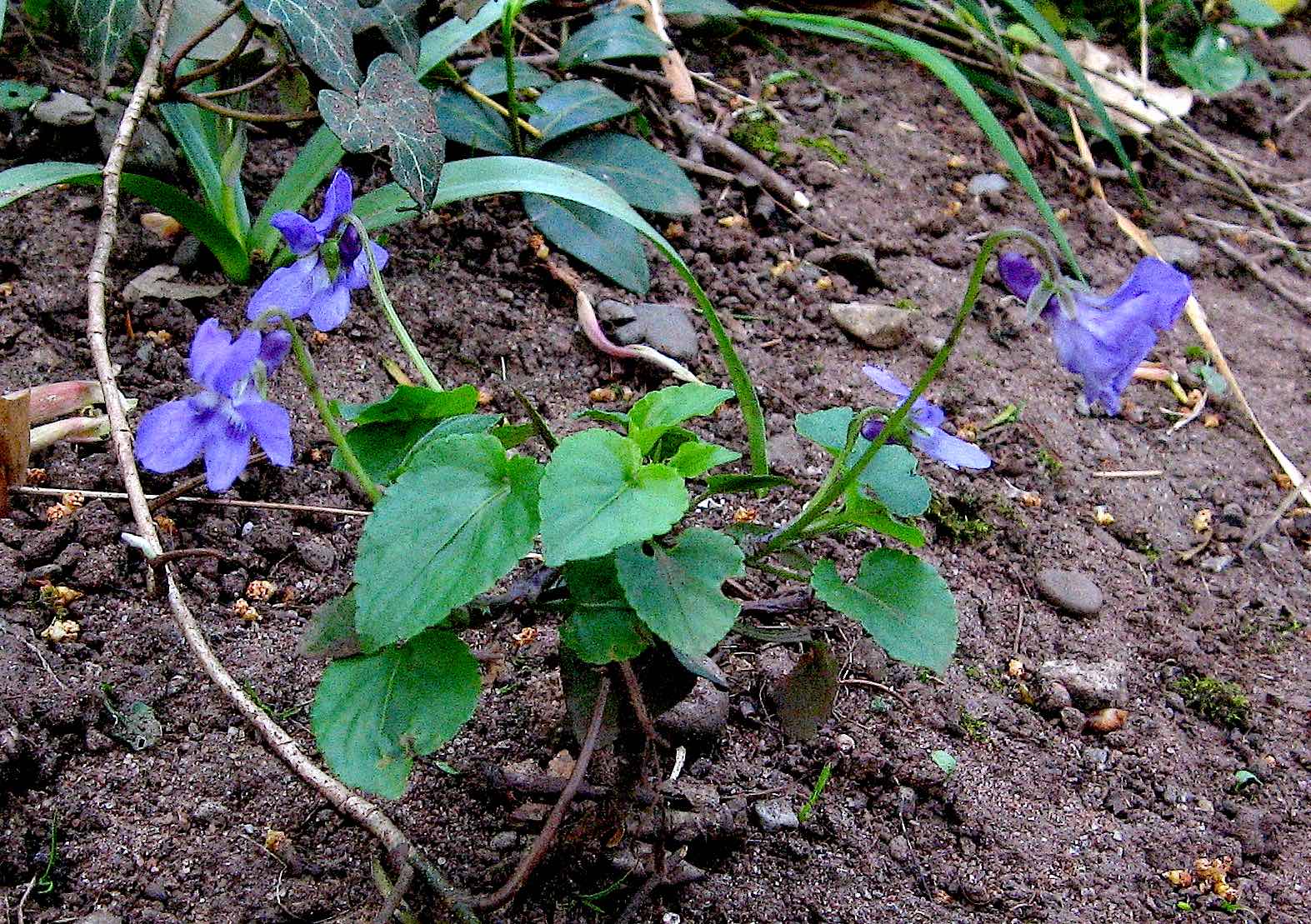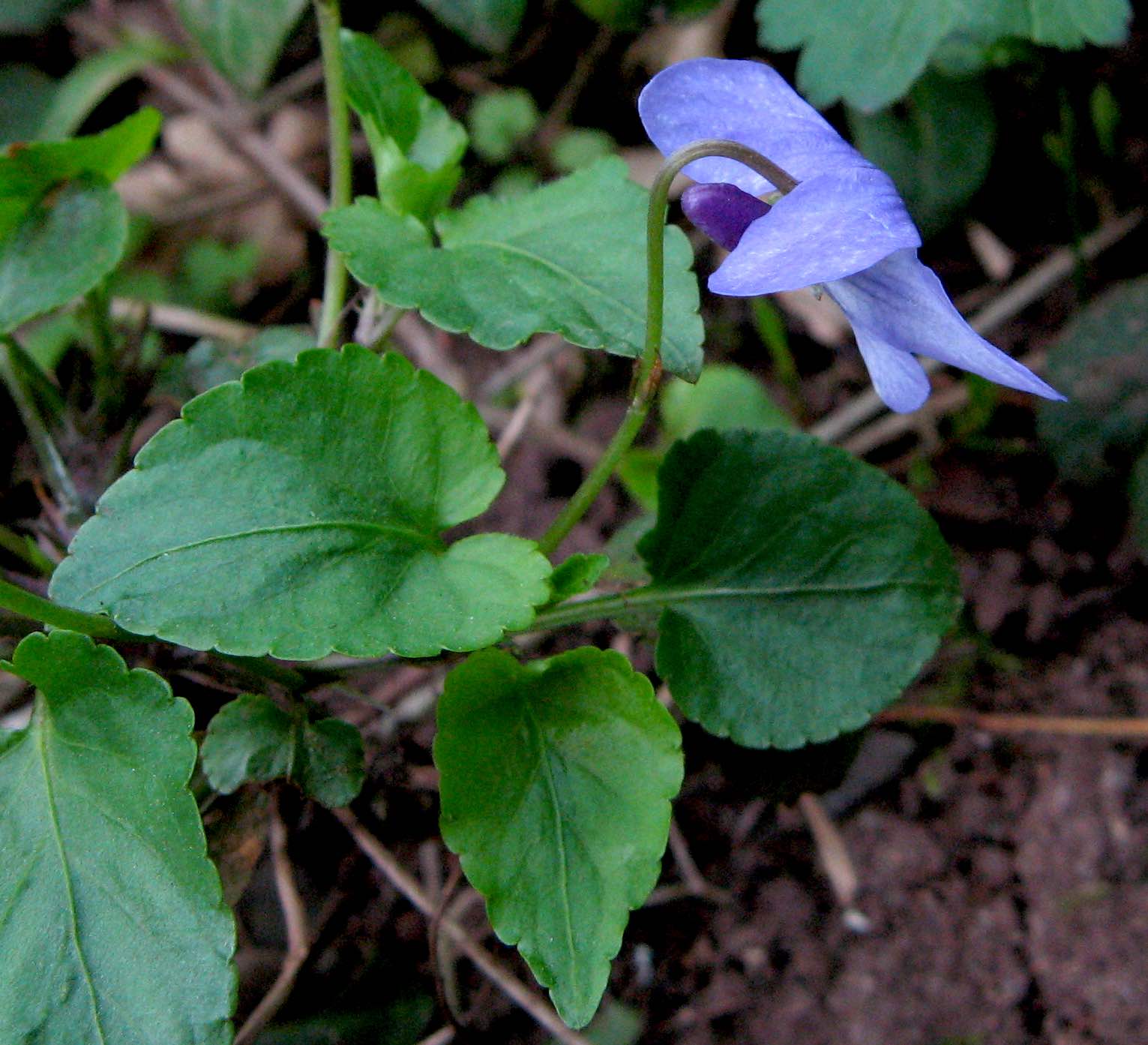 ---
Heath Dog-violet Viola canina
What a beauty this can be! Typically a compact and low plant, it has a quite different strategy: there is no persistent woody 'trunk', and instead flowering branches arise each year from a persistent rhizome. The leaves are subtly different from riviniana, being a colder colour of green, and more triangular with straighter sides, and with the surfaces between the veins more raised, and more sparsely hairy, or even hairless above. The flowers are rather later than in riviniana, and are a bluer shade of violet, and the spurs are distinctively pale and a bright greeny-yellow.
It grows always in open sites: open turf on dunes, very locally on sandy soils inland, and on some gravelly lakeshores. ⇓
---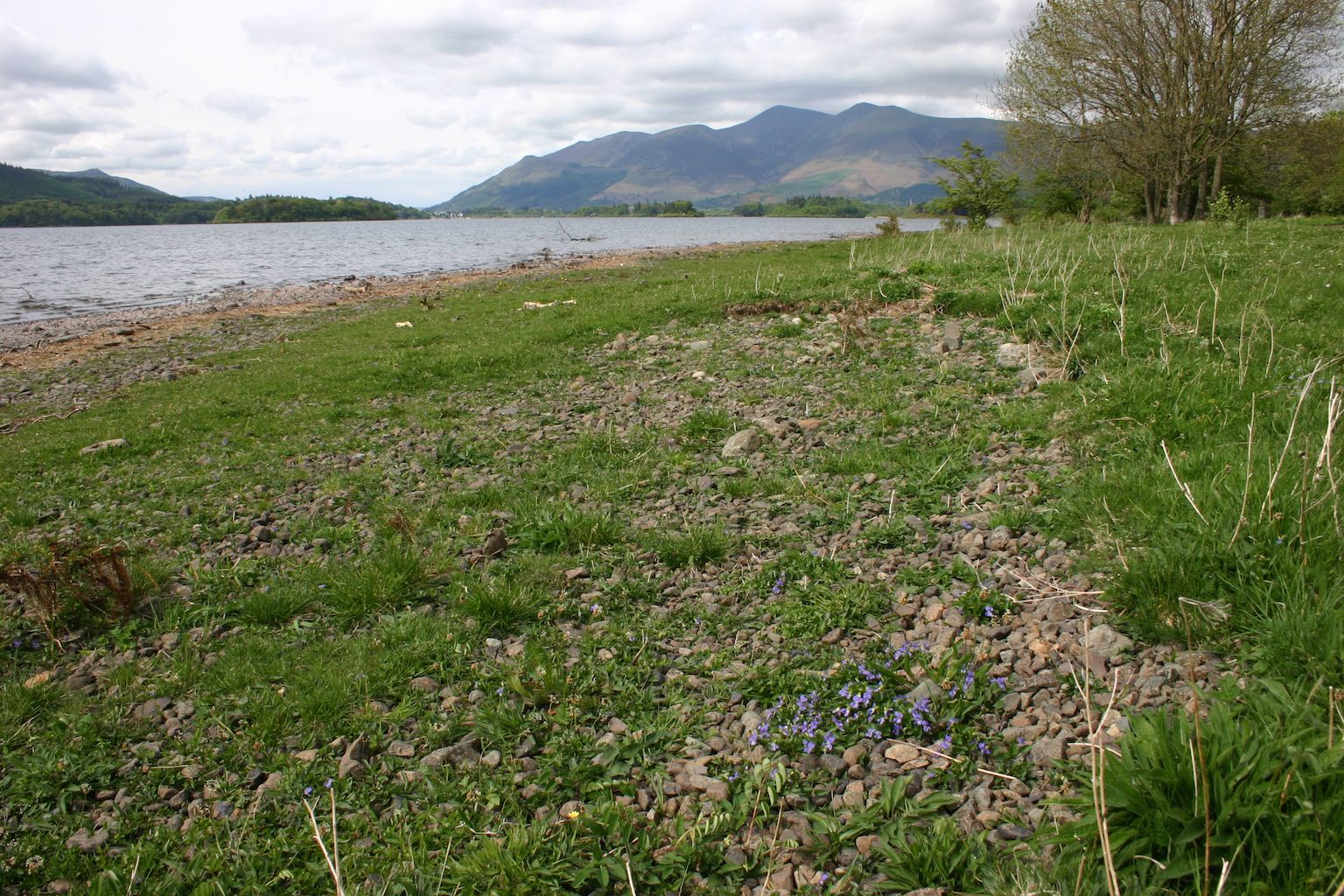 ---
Unfortunately, it is most often outnumbered by its hybrid with riviniana, Viola × intersita, which forms much larger, more floriferous, and hence more conspicuous clumps, with precisely intermediate characters – endlessly confusing when flowering. Thankfully, × intersita is +/- sterile, so that by about August, any canina plants will be bearing capsules, and the hybrids will have none, the flowers and flower-stalks withered and brown along the stems to confirm their abortion. ⇓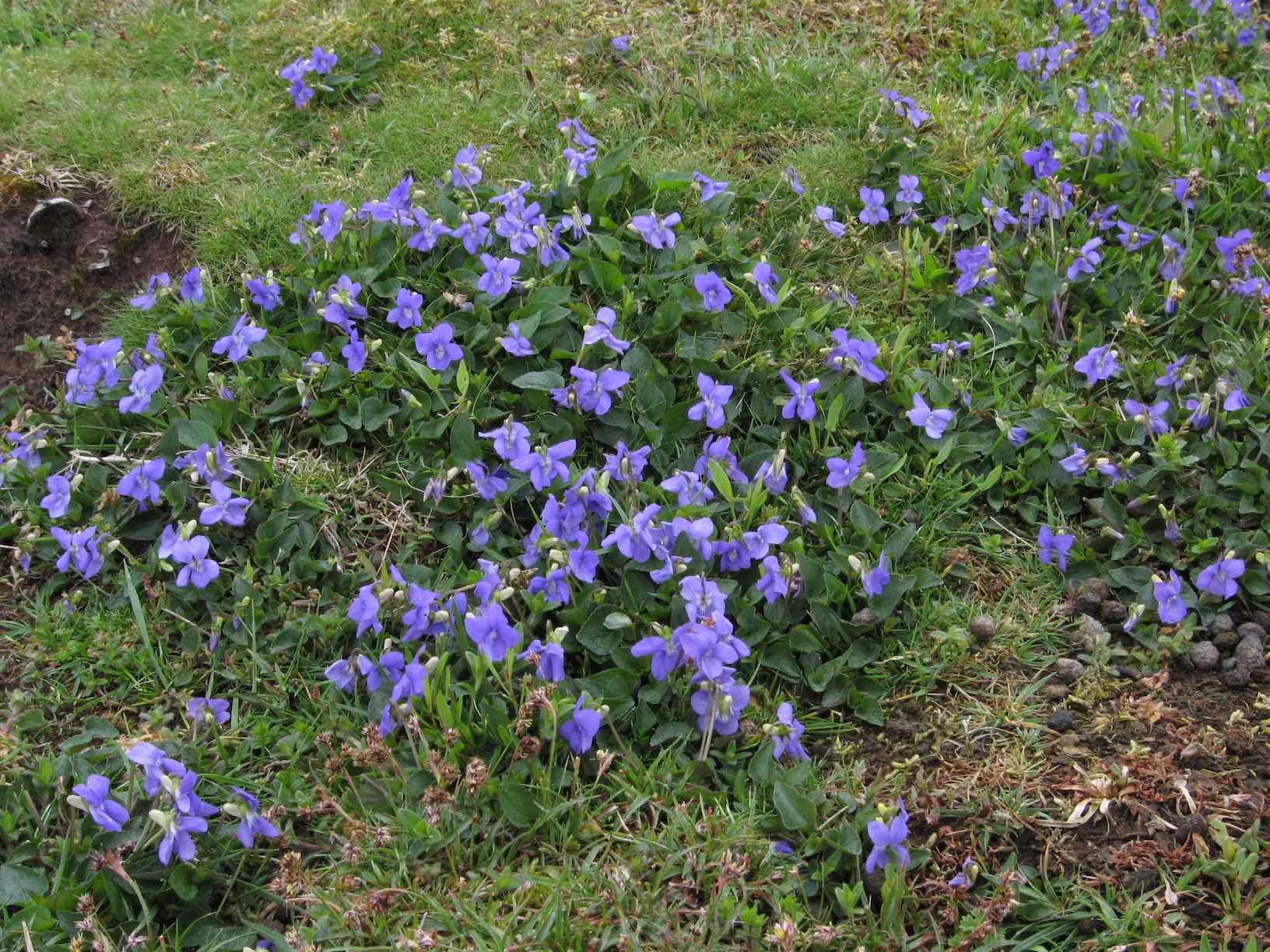 ---
Teesdale Violet Viola rupestris
A highly localized plant, with only four localities in UK. In two of them, Ingleborough in the Yorkshire Dales (God's Country, incidentally…), and Widdybank Fell, Teesdale, there are large populations of thousands of plants, whilst Cumbria's two sites have fewer plants, with hundreds (perhaps low thousands) on Long Fell above Brough (inconveniently within the Warcop Training Area: i.e. firing range), and a tiny colony of white-flowered plants on Arnside Knott. ⇓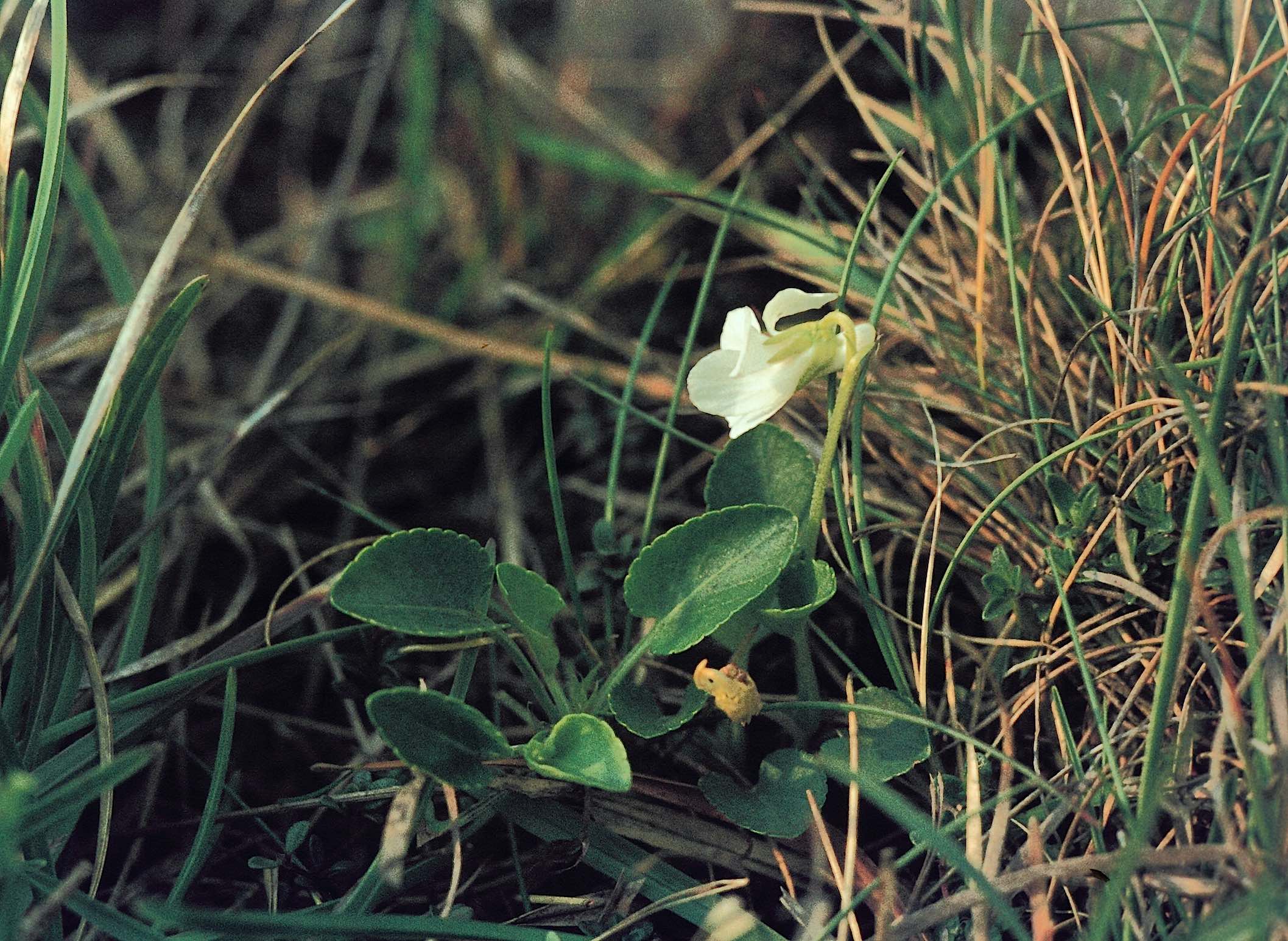 Follow the links here to a photo-gallery and a very full account of the separation of rupestris from riviniana. 
Section B (blunt sepals): Hairy, Sweet and Marsh Violets
Sweet Violet Viola odorata
Forms patches, owing to strong runners (stolons). Flowers either purple-violet, or white with a purple spur. The rounded blunt-tipped leaves enlarge through the season. Strongly scented.
Locally common in the south of the county, rarer elsewhere, but many colonies grow in impermanent habitats (lane-sides, sandy river-banks, etc.) and appear to have their origins in gardens.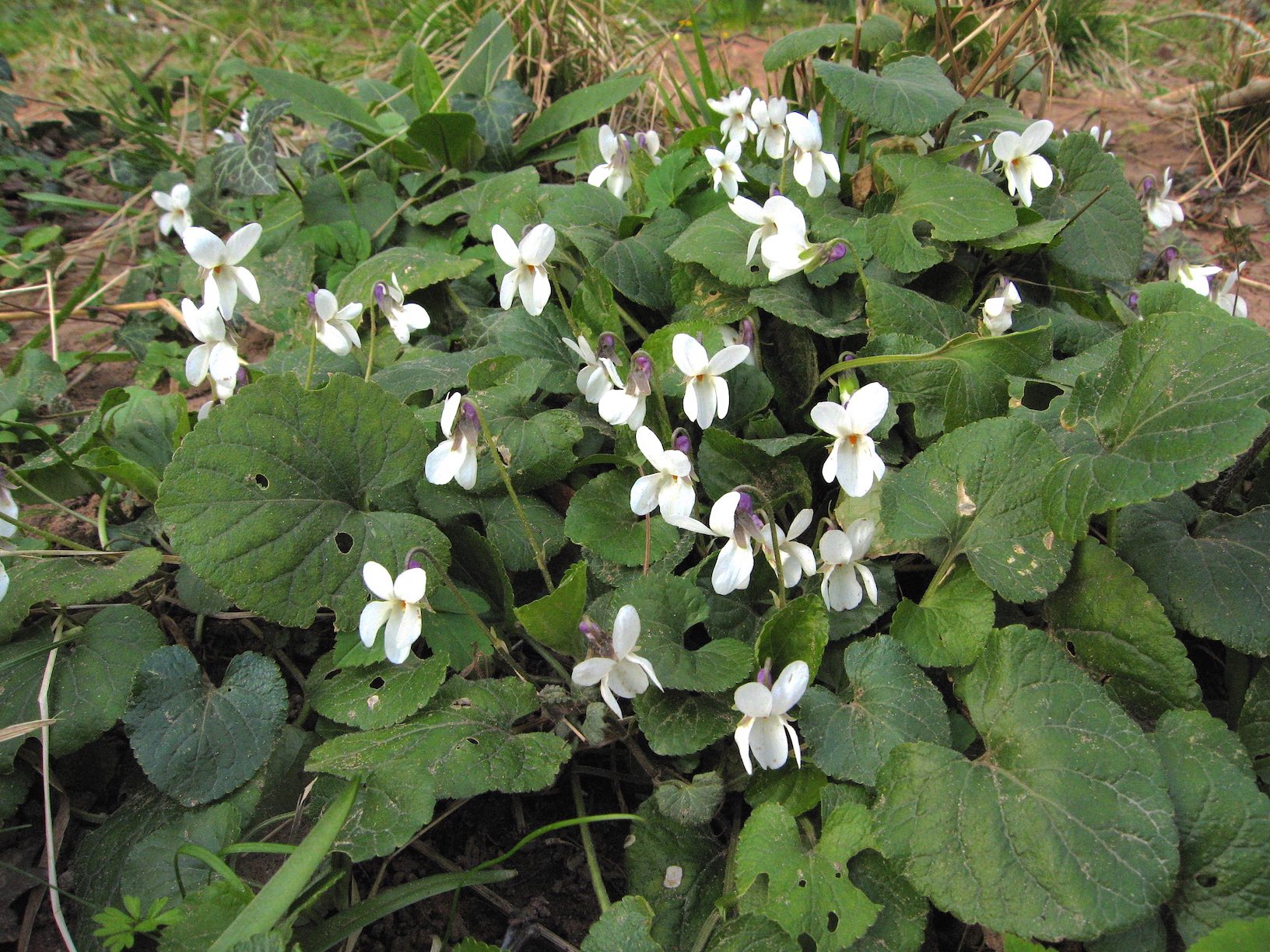 ---
Hairy Violet Viola hirta
Makes dense plants from a single rootstock – i.e. lacks stolons. Leaves longer and narrower than the previous, more hairy: the leaf-stalks are conspicously hairy with dense, sightly downward-angled hairs. Again, leaves enlarge through the season. Scentless violet flowers. No white form.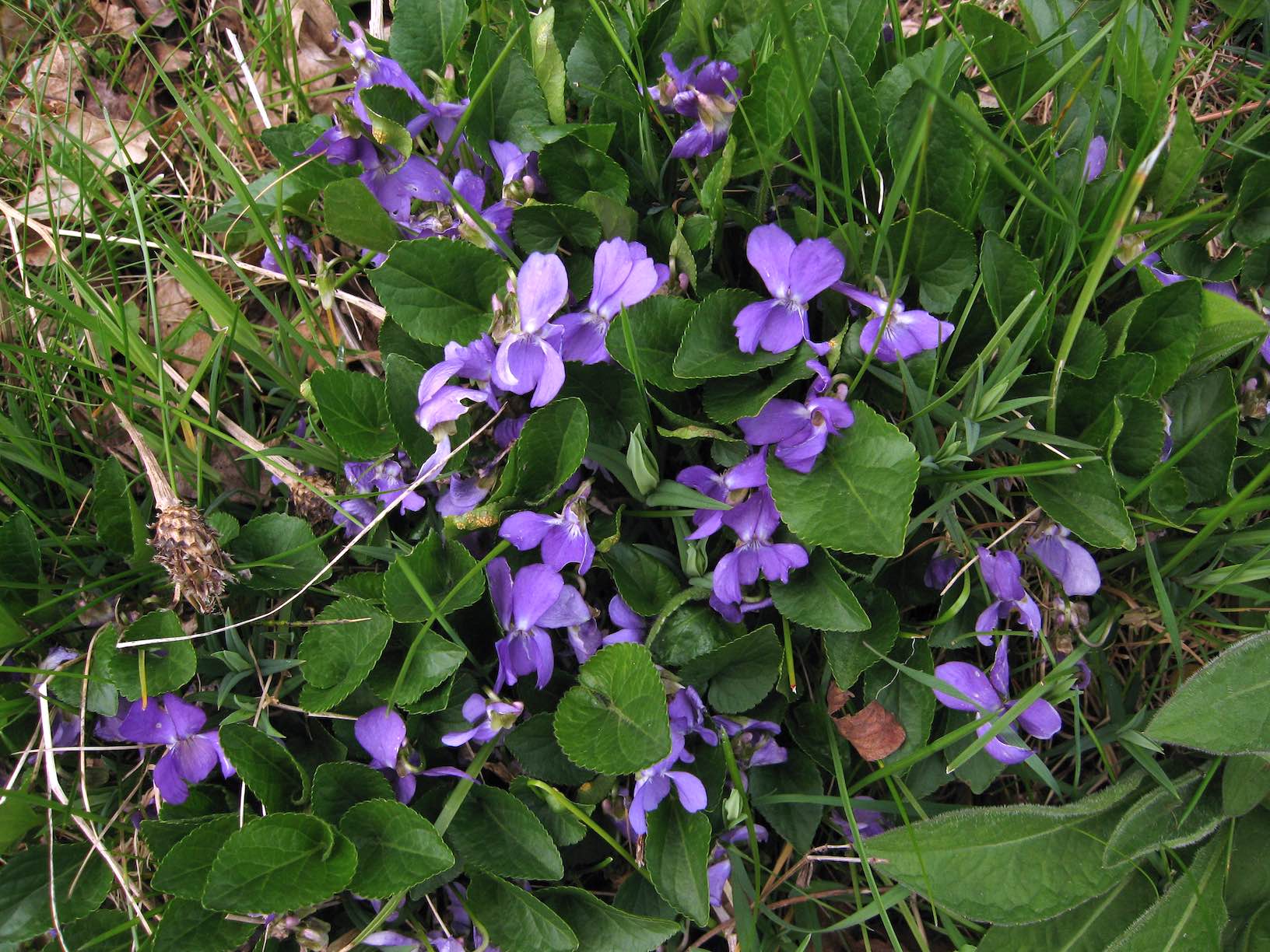 ---
Marsh Violet Viola palustris
Makes patches of very rounded leaves, with no 'tip', in flushed marshy ground of all sorts. There are no above-ground stems, the leaves arising from underground – or 'undermoss' – rhizomes. Small pale flowers. Often the last violet to flower, perhaps only because wet ground takes longer to warm at the start of the season (or indeed in the case of spring-water: never does warm!).
---
Pansies
Mountain Pansy Viola lutea
A perennial. Mostly occurs above 300 metres a.s.l., and up to 855 metres in central Lakeland. Usually purple-flowered in Cumbria, with some intermediates, as below. The yellow form (implied by 'lutea') is the typical form towards the southeast, and into the Yorkshire Dales.
Especially frequent on slightly-leached ground over limestones. ⇓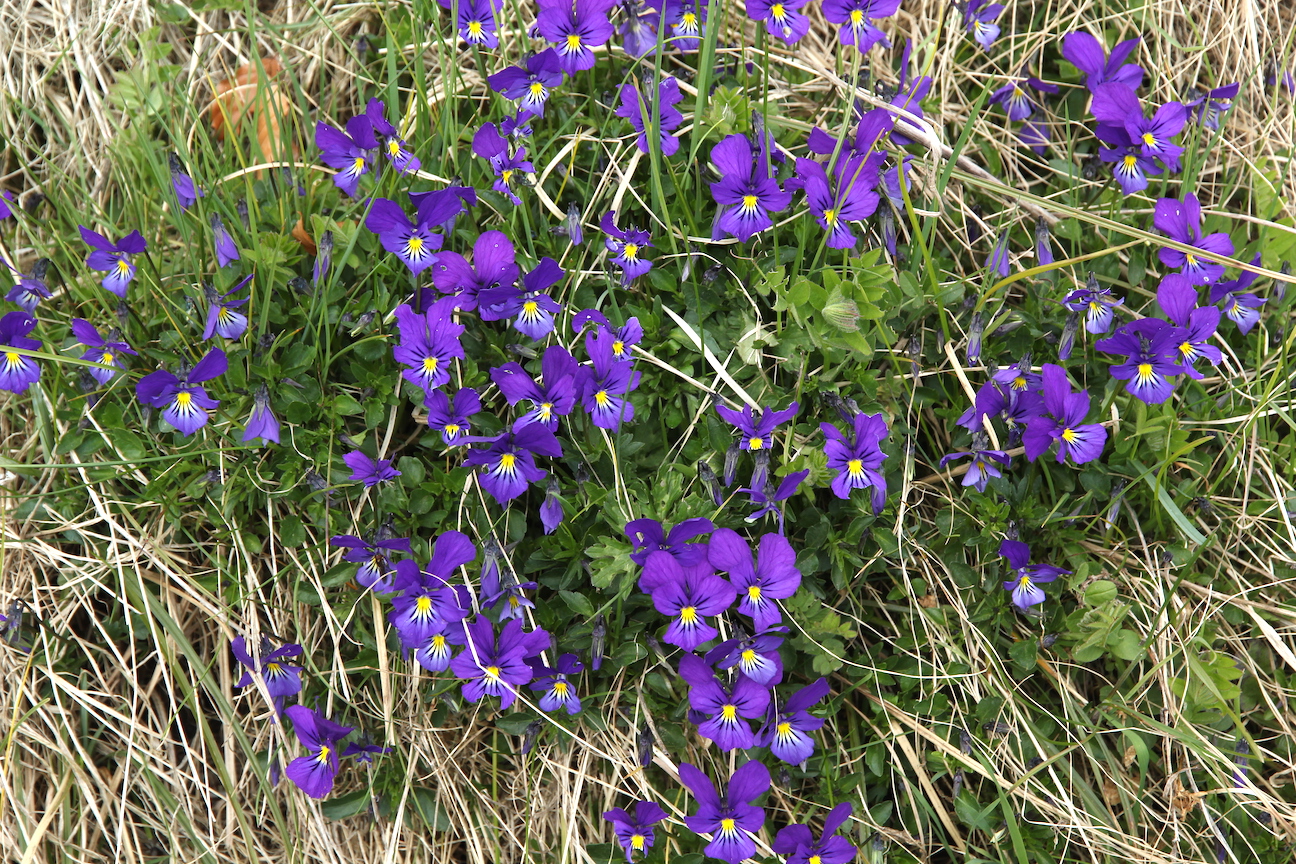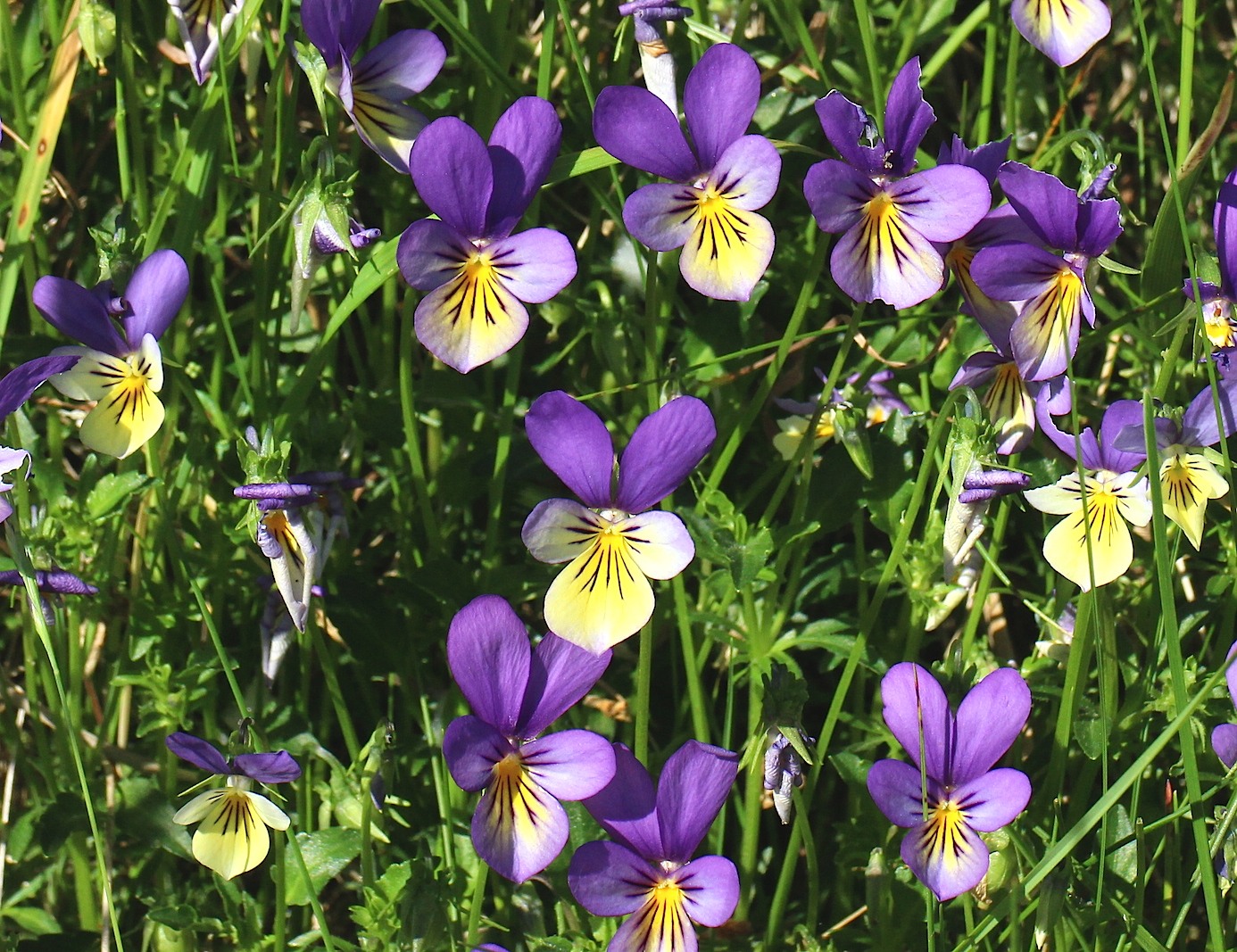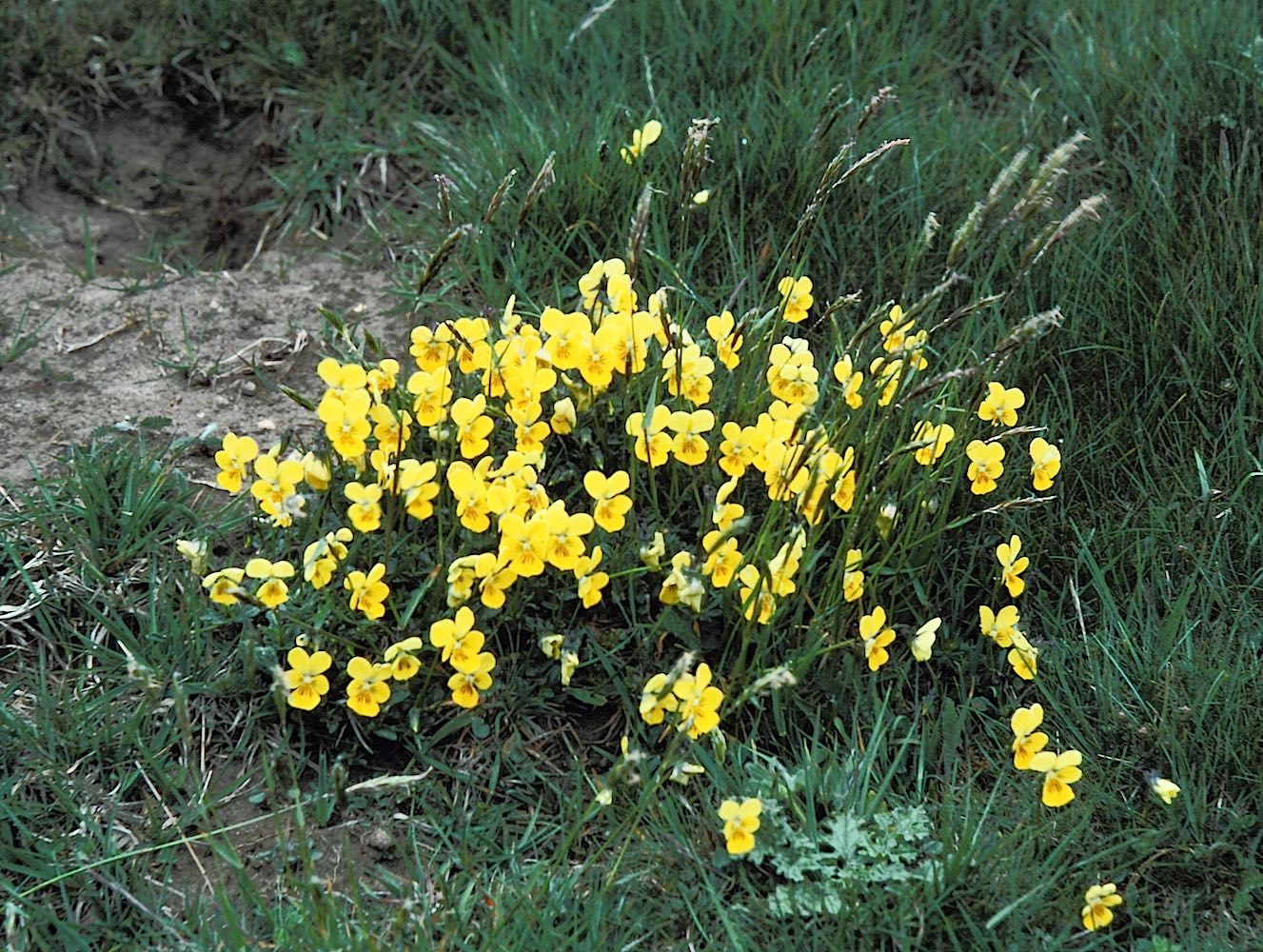 ---
Wild Pansy ('Heart's-ease') Viola tricolor & Field Pansy Viola arvensis
Similar 'weedy' species of transient habitats: field-edges, banks on sandy soils, etc.
Wild Pansy is annual or perennial, having larger flowers usually (or entirely) blue/violet, the lower lip longer than the calyx-lobes
Field Pansy is annual, with smaller flowers, typically paler, yellow, and with the tips of the calyx lobes visible below the lower lip of the flower.
There is much variation, however!
An extraordinary event took place in fallow fields by the A66 near Hayton in May 2007, with an explosion of germination of these two species and other weeds. The variation of each was remarkable, making identification of some individuals awkward, and hybrids may have been involved. Some forms were very striking: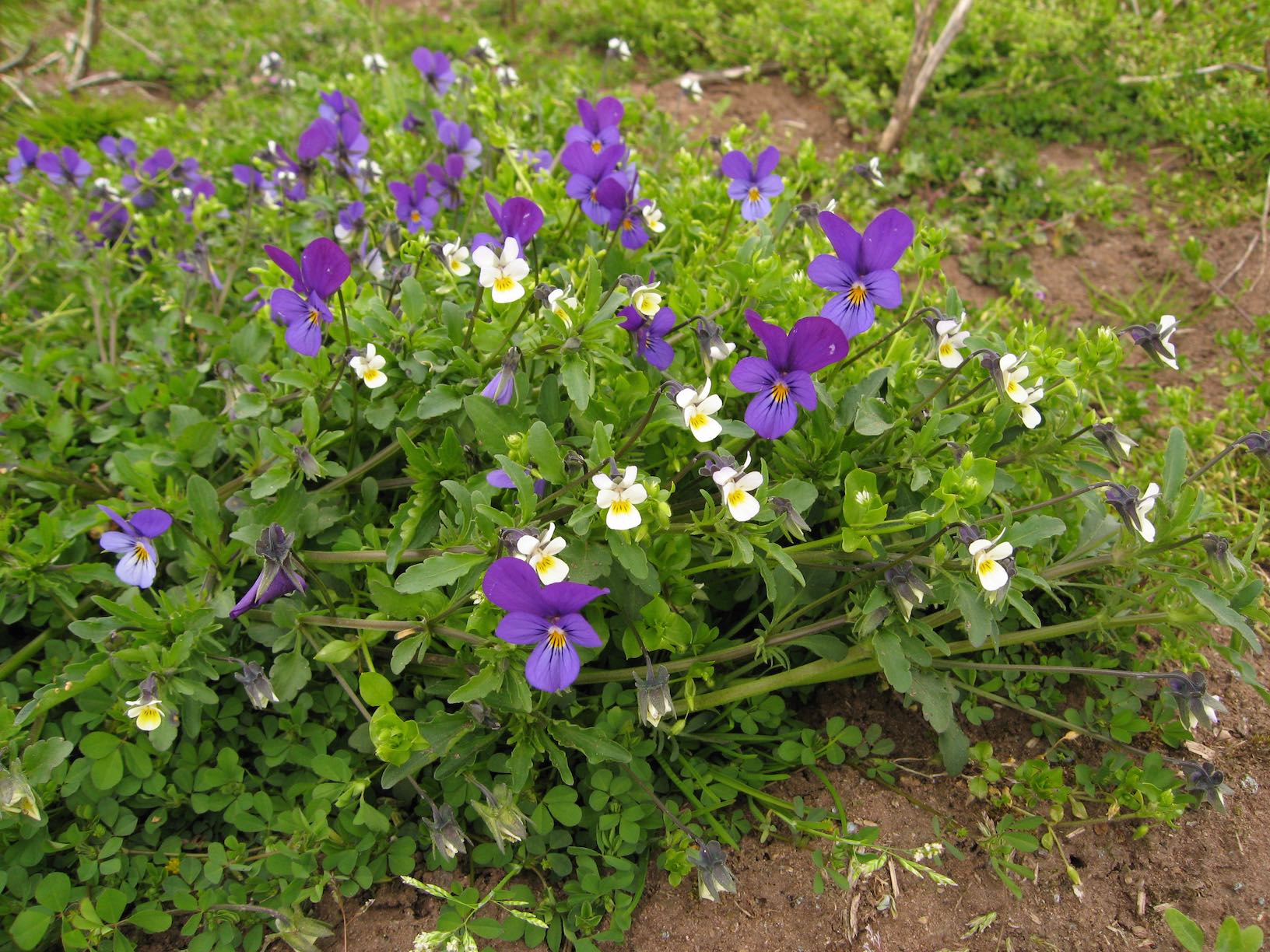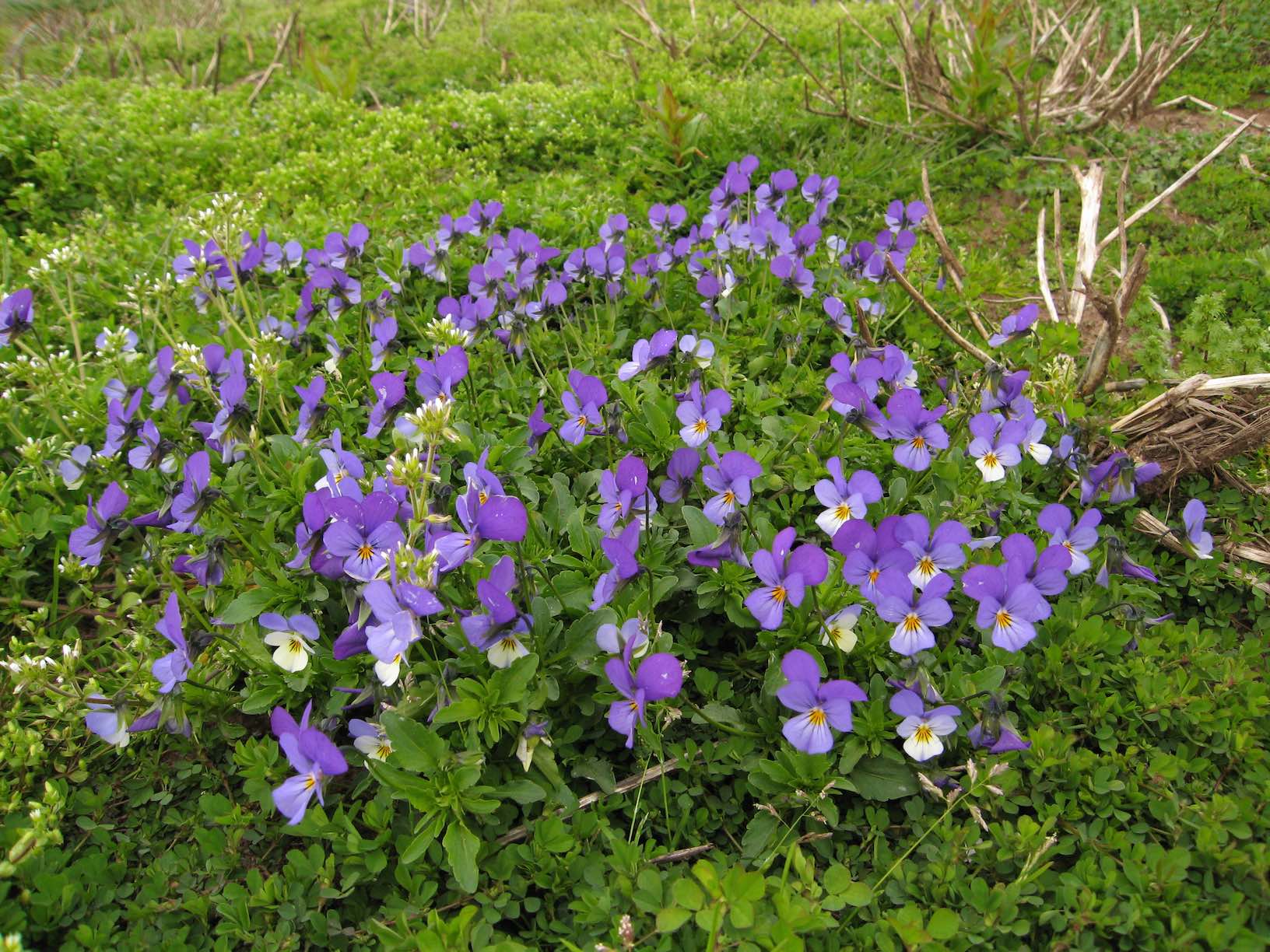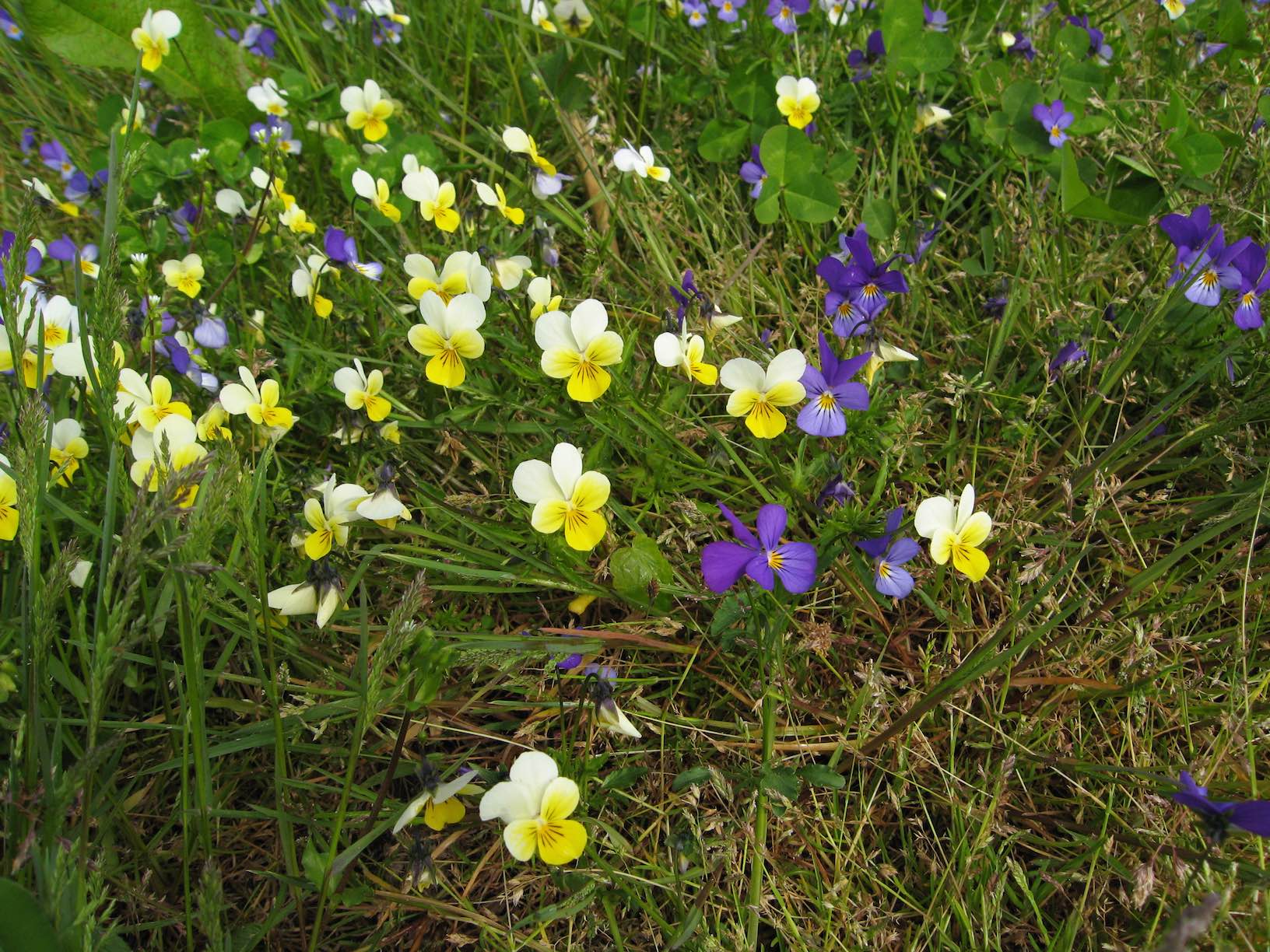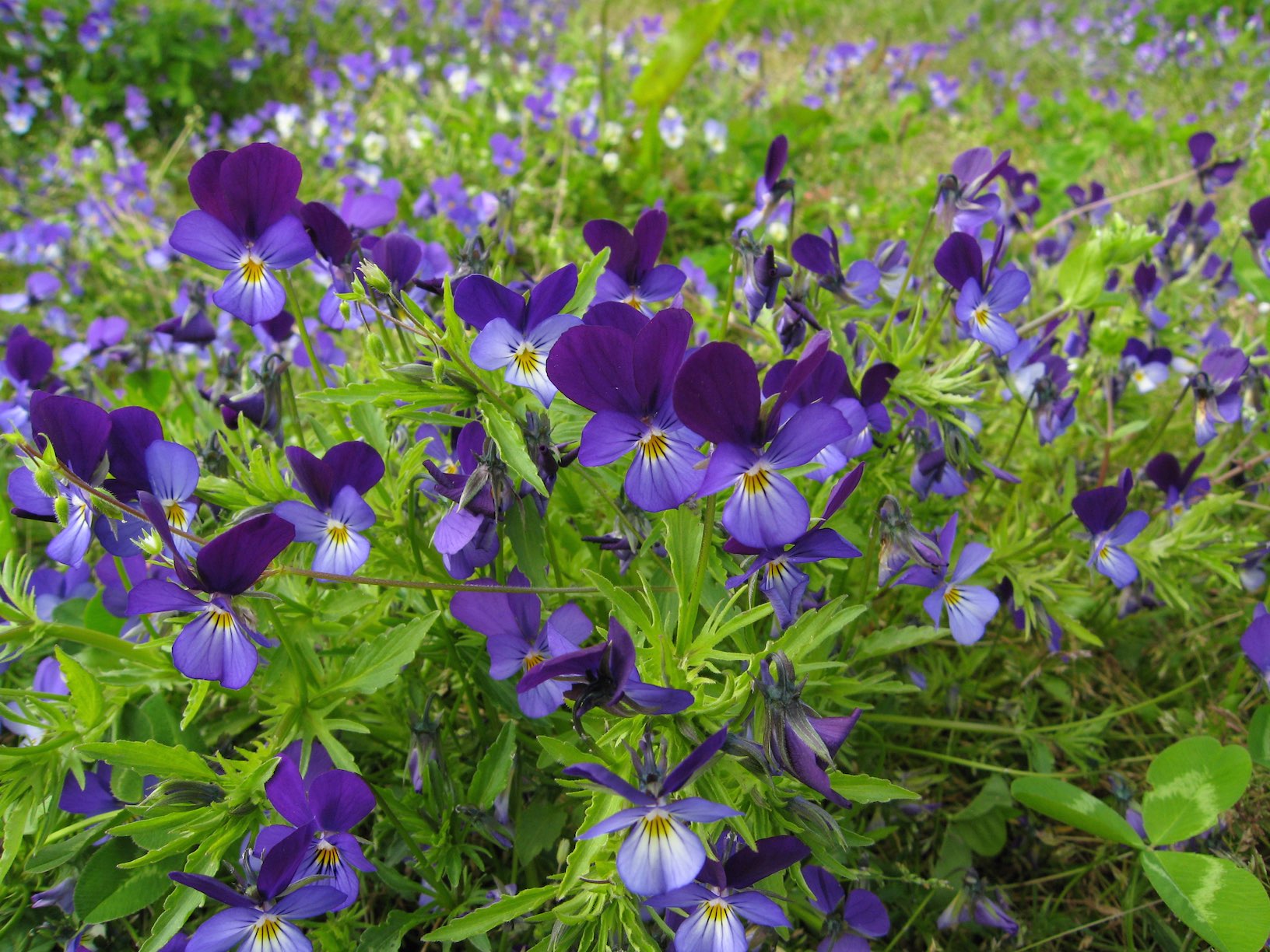 ---
The typical, annual, forms of V. tricolor typical of arable and disturbed soils lack rhizomes. Perennial forms have well-developed rhizomes (see New Flora of the British Isles Ed. 4, by Clive Stace), and are referred to two subspecies, saxatilis in hilly grasslands in the north, and curtisii on coastal dunes in the west, which although typically yellow-flowered is represented by a whole range of forms at Sandscale Haws (per Pete Burton), as below: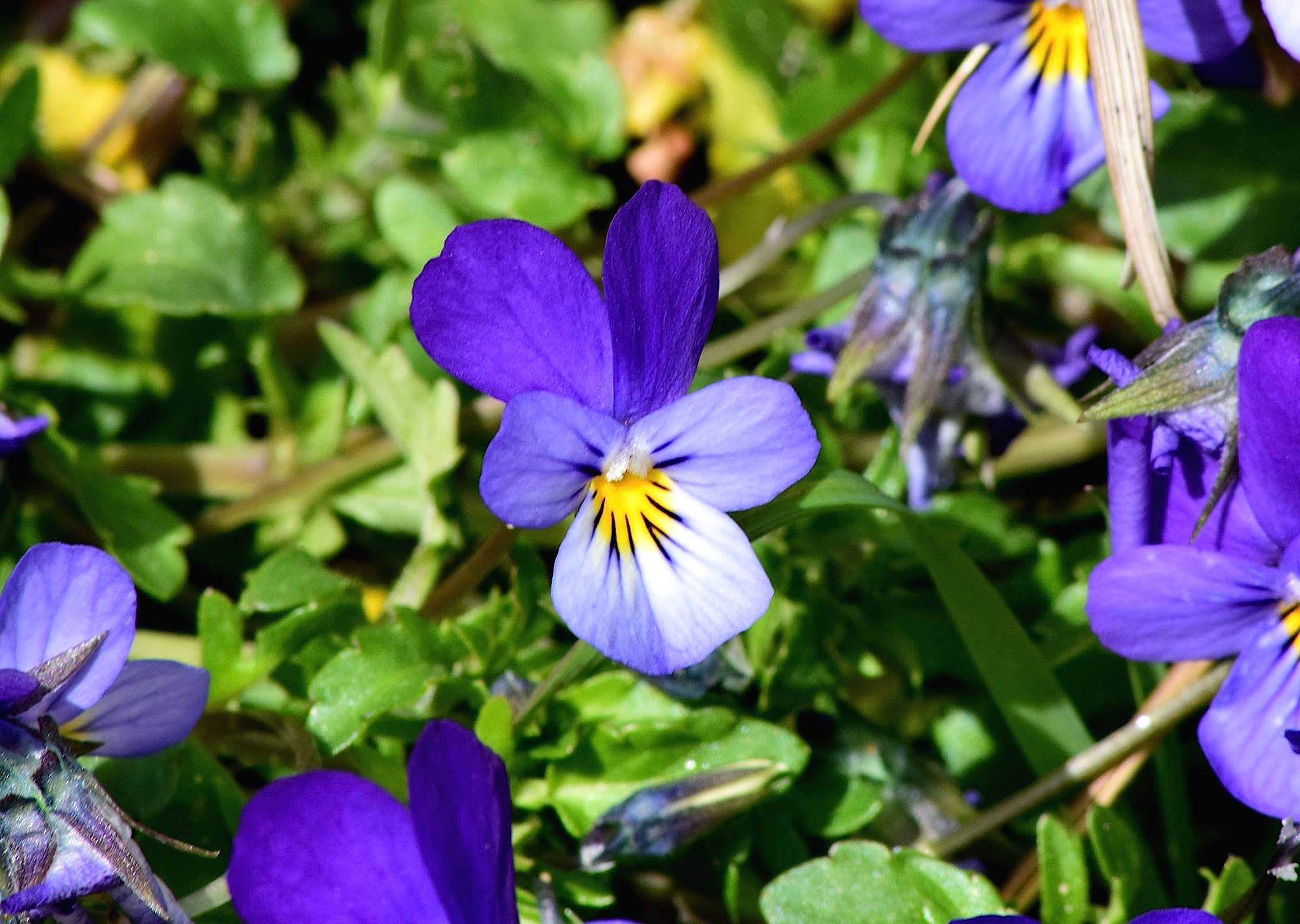 ---
However, a recent opinion is that many of these dunes populations may represent 'merely dwarfed coastal ecotypes of subspecies tricolor'. (See BSBI Handbook No. 17: Violas of Britain and Ireland by Mike Porter and Michael Foley (BSBI, 2017).)
JR 5 April 2020
⇠ back to "Look out for…"